What is a Home warranty?
BFS Home Warranties are yearly contracts that you purchase to cover all of your major appliances, air conditioning, plumbing, and electrical systems. You sign up with BFS and if there is ever a problem you simply call your local branch and one of our fully trained, licensed, and insured BFS technicians will come out to fix the problem with no labor or parts costs to the homeowner. If it can't be repaired, BFS will replace it. We cover all makes and models, and it doesn't matter how old the system is. As long as it's working when you sign up, you are covered.
Why does your home need protection?
PROTECT YOUR POCKETS. Don't spend your hard-earned money on repairing or replacing your home's equipment. Under BFS Home Warranty coverage, if it can't be repaired, it will be replaced.
PEACE OF MIND. All home system components and appliances will fail sooner or later. Rest easy, knowing that BFS has you covered.
ONE CALL COVERS IT ALL. Enjoy the convenience of having one number to call, for all potential household issues.
Why should I choose BFS Home Warranty?
BFS has been in business for over 40 years and we know service, both for the equipment we work on and the customers we work for. BFS is the only Home Warranty company who never subcontracts work out, which means that every time you call you talk to our local office staff, who will send out a company employed technician. Keeping all the work in house gives us unmatched quality control because we know who to send, and we know the service history of the equipment.
What's covered?
You can choose from one of our three most popular plans (shown below), or you can start with the BASIC, and add desired options to design a plan that fits your needs.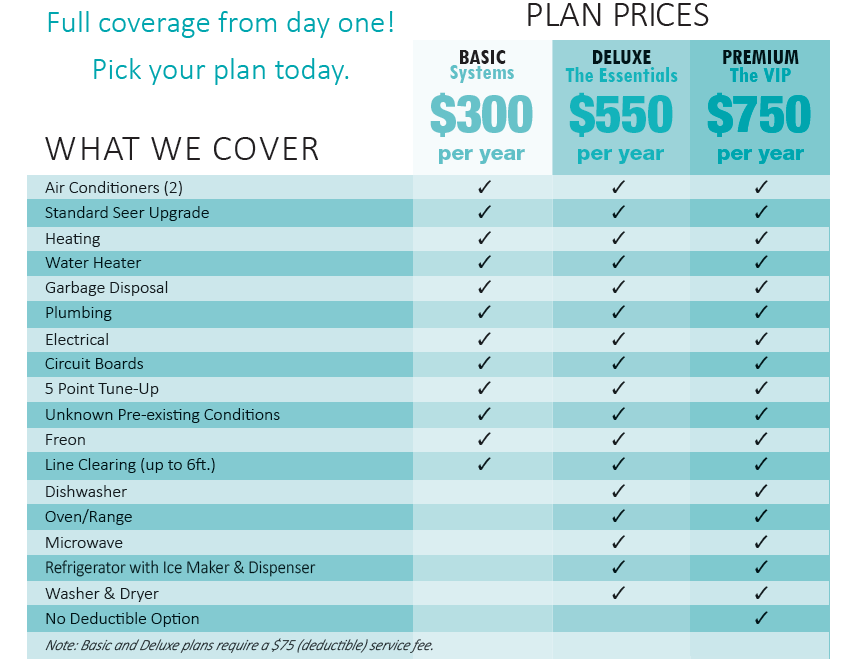 Protect your family from high equipment repair and replacement costs
 How do I sign up?
Choose your desired plan below to activate coverage today. Or, call 800-237-9910 for more information.