Posting Date: June 26, 2014
Posted by: Steve Ferguson, State Certified Air Conditioning Contractor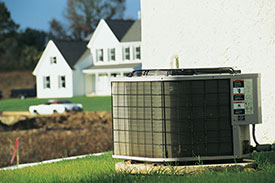 With record temperatures expected to hit many parts of the US this summer, energy use will continue to rise. If you're like most people in the US, you'll spend as much as 20 percent of your annual energy bill keeping your house cool, especially in southeast locations like Florida and Texas. With a little planning, you can help to cut those costs significantly.
These 5 tips will help you reduce the amount of energy you use to cool your home – and the amount of dollars needed to keep you cool and comfortable over the unavoidable Dog Days of summer.
Take advantage of your programmable thermostat. If you have central air conditioning, you can save energy by letting the house run slightly warmer when no one is home. You can give up a few degrees at night, too – especially on the hottest days, since the contrast between outdoor and indoor temperatures matters more than the absolute temperature inside your home. When you're in the house, target a temperature of about 78 degrees to balance comfort with energy savings.
Clean your air filter. A dirty air filter will reduce the efficiency of any cooling unit, making it use more energy to do the same job. Check your air filter monthly, and plan to change it at least once every summer (more if you're in a warmer area).
Get an Annual Tune-Up. Getting a tune-up for your air conditioner every year won't just save you money by keeping your equipment running at peak efficiency – it will also help prevent premature equipment failure. Getting a tune-up from a Broward pro is easy and affordable – especially if you have a service plan with us. Of course if you need a repair for your system, we can help you there, too.
Be space-efficient. If you are thinking about a new system or a replacement to an existing air conditioning system, ask yourself how you'll use your new air conditioner, and choose the smallest option that works for your space and lifestyle. Our knowledgeable staff and technicians can help you choose the right air conditioner for your home and budget – from central units and versatile heat pumps to ductless mini-splits and more. Contact us for a free estimate to see how affordable a new cooling system can be!
Buy Energy Star equipment. Energy efficiency matters, whether you're buying a central air conditioner (which could qualify for a rebate or tax credit, saving you even more money) or a room unit. An Energy Star central air system will use about 14 percent less energy than minimum government standards, and a room air conditioner will save at least 10 percent. Broward features a full line of high-rated Energy Star air conditioners, which we can expertly install in your home – usually in a day or two. Contact us to learn more or get a FREE estimate.
Check out our energy saving tips for ways to save you money throughout the year – and don't hesitate to contact us to learn about the latest options in air conditioning.