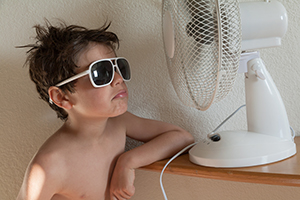 Posting Date: July 29, 2016
Posted by: Robert Herd, Hollywood, FL Office Manager
If your central air conditioning stops running – or if you notice it isn't working as well as it once did – it's probably time for a repair.
Before you contact us, check for these common problems, which can save time and help us diagnose the problem before we come to fix it.
No power
Check fuses and circuit breakers – An overworked air conditioner can easily trip a circuit breaker or blow a fuse. Wait a few minutes after the unit turns off, then reset the breakers.
Check your thermostat – Verify that it is set for the right temperature and settings (set to "cool" or "fan") for regular operation.
Poor Operation
Look for dirt and debris in filters and coils – Dirt can cause a compressor or fan to fail prematurely. Keep air intakes clear to ensure adequate airflow.
Make sure all windows and doors are closed – if your A/C is overworking, it could lead to inefficiency – and eventually costly repairs.
Check for signs of improper maintenance – Low airflow from vents and higher than usual energy bills can be a sign that your equipment isn't being properly maintained. Equipment can lose 5-10 percent efficiency or more every cooling season without routine maintenance. Duct leaks can also account for added costs to cool and heat your home.
Make sure your A/C unit is matched to the cooling load of your home – If you've built an addition to your home and haven't upgraded your air conditioner, it may have to work too hard to cool your space, which will eventually lead to problems.
Check for refrigerant leaks – Telltale signs for a refrigerant leak are warm air coming from your A/C vents and/or ice forming on your outdoor compressor unit. If your refrigerant is low, it's probably due to a leak, and you'll need a professional service.
Still having A/C problems? Contact Broward for prompt, expert service – or a replacement air conditioner, if you need it.