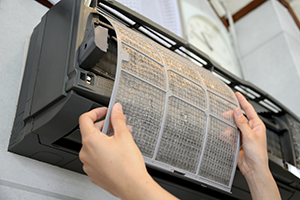 Posting Date: October 23, 2015
Posted by: Jason Nyarady, Dallas Office Manager
Why is my air conditioner not working? I'm having problems with my A/C!
Let us help you diagnose problems with your air conditioning. Begin your troubleshooting at the thermostat by ensuring that the thermostat is on cool and that it is set lower than actual room temperature.
Is there air coming out of vents or registers? If there is not, check to see if the fan on the outside unit is running. If the fan on the outside unit is not running, check to make sure that your breakers are on.
If the breaker is not tripped, then the problem may be your thermostat, the air handler control board, or the wires between the air handler and the thermostat.
If your indoor air handler is running, but the fan outside isn't, the problem could be the blower motor, it's run capacitor, or the control board.
If the compressor starts but the fan does not, the condenser fan motor could be the problem.
If the condenser fan starts but the compressor does not, the unit may be low on refrigerant, the compressor might be too hot, or the compressor might be damaged.
If all else fails, just give us a call! Of course you'll want to keep your system operating at top efficiency—that's why you should schedule a tune-up with BFS at least once a year. If there's any indication that your system isn't performing as it should, schedule a repair immediately so you don't end up sweltering!
Whether you need a new unit or have your current system serviced or repaired, contact us or call 877-237-9700.