Posting Date: June 18, 2015
Posted by: Christine Walton, Vice President, Broward Factory Service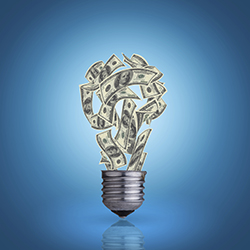 Everyone wants to save money. Did you know that your air conditioning system's efficiency ratings have a direct impact on how much you will pay each year for energy?
We measure cooling systems' efficiency in SEER, which stands for "Seasonal Energy Efficiency Rating." The industry tests these systems and awards them the equivalent of MPG in vehicles – the higher the rating, the more efficient the equipment is.
Energy Cost Savings Calculator
Higher ratings equal lower energy use, which equals a lower environmental impact, as well as lower annual energy payments. So your saving "green" applies to dollars and the environment!
You can often save hundreds of dollars more, because your utility company may offer rebates when you buy high-efficiency equipment.
Calculate your energy savings today by using our handy calculator. And contact us or call 877-237-9700 for more information on how you can save money.