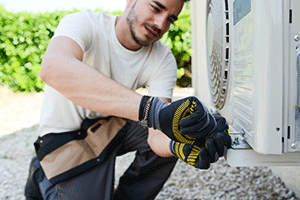 Posting Date: July 19, 2017
Posted by: Leigh Fichter, Phoenix, AZ Branch Manager
We don't realize how much we rely on our trusty home cooling system until it stops working – at which point we panic and pay whatever it takes to repair our A/C to get it up and running so we can sleep again.
But it doesn't have to be this way – in fact, it's estimated that about four out of five A/C system breakdowns are preventable.
How? By getting routine A/C maintenance every year. Broward gives you two ways to perform regular upkeep on your home cooling system:
A cooling system tune-up, which will keep your equipment running efficiently and reliably for the rest of the cooling season, and
A BFS Silver or Gold Service Plan, which includes a tune-up, gives you priority placement for service calls, and provides discounts for repairs.
Expert installation of new home cooling systems
Maintenance is critical for your HVAC equipment, but even properly maintained gear has its limits: eventually, you will reach a point where replacing your home cooling system will make more sense than paying to keep your old one running.
If your central air conditioner or heat pump is more than ten years old – or if it has been improperly maintained or repaired several times in recent years – it could be time to replace it. Today's high-efficiency models could save you up to 40 percent on your monthly energy bills – enough for a new model to pay for itself in just a few years.
Contact Broward today to schedule a tune-up, sign up for a Service Plan, or get a FREE estimate on a new home cooling system!