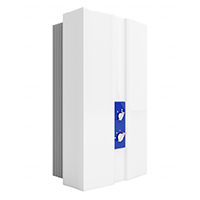 Posting Date: October 26, 2016
Posted by: Rusty Herd, San Marcos/Austin Branch Manager
In our last post, we talked about some of the factors you'll need to consider when choosing a new water heater for your home.
One of the most important of these factors fuel type, which affects your monthly energy bill, the size of water heater you'll need and the efficiency you should expect from your new water heater.
Here are the three most common fuel types for water heaters:
Electric powered – A low-upfront cost choice for many homes, electric powered water heaters are available in both storage models and as heat pump / hybrid systems, which absorb ambient heat and transfer it to the water.
Fuel oil powered – Water heaters powered by heating oil are available as conventional and tankless systems. If you can make the higher up front investment, tankless systems are a great solution, especially if space is at a premium (they're about the size of a suitcase and can be wall mounted).
Gas powered – Propane- and natural gas-powered standard and tankless models are great, high-efficiency options for water heating. Gas produces more BTUs per dollar than any other fuel source.
Comparing fuel costs and water heater types
Choosing a water heating system is an important investment for your home, since it accounts for nearly 20 percent of your overall energy bill. There are many options available to you, so it's a good idea to take the time to figure out what option is best for you.
Contact Broward today for a FREE estimate on a new, high efficiency water heating system!