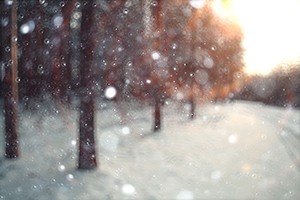 Posting Date: November 30, 2015
Posted by: John Barbato, Orlando Branch Manager
People in warm weather climates might not consider planning and preparing for winter weather events because of normally mild temperatures. However, even these mild weather locations can experience temperatures below freezing and occasional snow and ice storms during the winter months which can be dangerous. Many homes also lack adequate heating and insulation for dealing with sub-freezing conditions and a loss of heating systems due to power loss can create dangerous situations for family members during winter weather events. There is also a risk of electrical outages and frozen or broken water pipes. Traveling may not be safe with ice or debris on local roadways as well.
These simple safety reminders can help you and your family be better prepared for a winter weather event:
Allow a small stream of water to run from faucets to reduce the risk of frozen pipes.
If you lose power, unplug all appliances. This reduces the initial demand on the power system when service is restored, and leave one light switched on, so you know when the power has been restored.
Operate generators safely:

Never operate one inside the home or garage.
Operate one only outdoors in an open and well-ventilated area.
Do not connect the generator to your home's wiring to avoid "back feed" into utility lines; this can injure or kill persons working to restore power.

Ensure that adequate coats, gloves, and hats are available for all family members.
Replenish battery supplies and flashlights in case of a power outage.
Charge your cell phone(s).
If you or someone you know requires oxygen or is electrically dependent, develop and have a plan.
Ensure you have a week's supply of needed prescription medications on hand.
Have a week's supply of non-perishable food, with a manual can opener, and water on hand.
Fill your car's gas tank.
Fill your bathtub(s) with water.
Turn your refrigerator and freezer to their coldest setting.
Wrap exposed exterior pipes with rubber insulation.
If a winter weather event is forecast, these simple tips can help you stay safe and comfortable. Staying indoors and off the roads is a safe way to endure a storm. Winter weather events can be enjoyable and perhaps even beautiful, Plan ahead and be prepared!
After a storm if you experience any problems with your heating equipment or appliances, call your local Broward Factory Service office or email us.