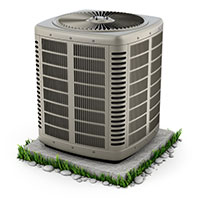 Posting Date: February 16, 2018
Posted by: Mike Barulic, West Palm Beach, FL Branch Manager
If you live in a warm weather climate, you rely on your air conditioner virtually year-round to keep you comfortable at home – so when it's not working the way it should, it's a problem that needs to be taken care of right away.
One thing to keep an especially close eye on is the temperature of the air coming from your vents. If the air is warmer than usual – or if you notice ice forming on your outside central air conditioner lines after you've run it for a few hours – your A/C system could be leaking refrigerant. Low refrigerant can your system to perform poorly – or to fail altogether.
Refrigerant levels often drop due to very small leaks in your compressor that you can't see with the naked eye; a good technician will typically check for these leaks during an annual tune-up if they see that refrigerant levels are low.
If your air conditioner is not blowing cold air, a refrigerant recharge may be all you need. But if you've recharged your system several times in recent years, it might be time to consider a high-efficiency upgrade.
Manufacturer's rebates and government incentives can save you hundreds on a new cooling system – ask our expert sales team about current specials when you contact us for a FREE estimate!