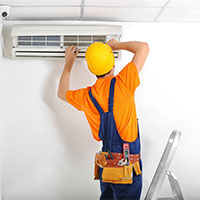 Posting Date: February 23, 2018
Posted by: Keith Durand, Orlando, FL Branch Manager
People sometimes ask, "Is an AC tune-up really necessary every year?"
Our answer is an emphatic YES – especially if you live in a warm weather area like we do here in Florida.
Let's face it: an air conditioning system is a major investment that needs to be protected – and having your A/C professionally maintained every year is the only proven way to keep your HVAC equipment running at its best.
Here are 5 key benefits of performing routine annual A/C maintenance:
Better health for you – Heat and humidity can be a nuisance for some people – but it can be downright dangerous for others, especially if you're entering your golden years. If you have a medical condition that gets worse in the heat, a reliable cooling system isn't a luxury – it's a necessity.
More reliable equipment
 – Did you know that 80 percent of air conditioner repairs are avoidable with regular maintenance? Proper care will help you avoid inconvenient equipment breakdowns – and the potentially costly repairs that come with them. 
Monthly savings – A well-maintained air conditioner runs more efficiently, so you'll save on your utility bills – often enough over the course of a single cooling season to pay for your annual tune-up!
Longer system life – Replacing your neglected A/C earlier than you need to can be a drag – and a costly one, at that. Regular maintenance can add years to the life of your air conditioner.
Improved air quality– A well-maintained air conditioner helps control humidity in your home, keeping it healthy and clean – especially when it's combined with an indoor air quality system.
Easy solutions: Broward Service Plans for your home cooling system
Take care of your A/C maintenance early by signing up for a tune-up today – or for an even better value, consider a Broward Service Plan which includes a tune-up plus covered repairs, repair discounts, priority service, and more*.
Keep your home air conditioner running better for longer – sign up for an annual tune up or Broward Air Conditioning Service Plan today!  
*Please note that our Cooling Service Plans do not apply to repairs to ductwork.