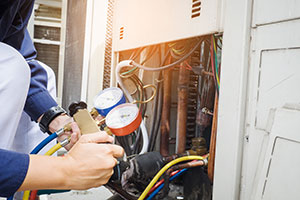 Posting Date: February 27, 2017
Posted by: Glen Herd, Houston Branch Manager
In part one of this two part post, we discussed some of the most important you should ask as you consider whether to repair or replace your air conditioner or furnace. Here in part two, we'll add a few more – along with some final thoughts and repair / replace guidelines.
Does my current set up limit my options? If you're looking to replace your AC or furnace, will your current ductwork support the kind of system you're considering? Do you have enough outdoor space to support a bigger compressor for a larger cooling system? There are some limitations that can dictate what's possible without significant changes to your home – but switching to a higher efficiency system may make the results worth the investment.
What is the correct size for my home systems? Right-sizing is one of the most important and overlooked aspects of buying a home HVAC system; a mismatch between system size and your home's heating or cooling load means you'll pay more every month for a system that performs below expectations. Poorly-sized heating and cooling systems are also more likely to break down – or to create other issues such as mold resulting from excessive condensation build up. And remember: if you've done work to your house – or plan to – your HVAC system needs to be able meet its new heating and cooling demands.
Is my current system safe? A 10-year-old system carries a much higher risk of this problem than one that is newly installed. For example, older heat exchangers can crack or rust, causing carbon monoxide leaks in your home.
Summing up
When you weight the costs and benefits of repairing or replacing older equipment with more efficient HVAC equipment, there are significant advantages to replacing an older system. Is repair ever a viable option? Yes, if:
Your system is less than 5 years old
You're planning to move
You know that incentive options (a federal or state utility rebate program, for example) are planned but have not yet arrived
You simply can't afford a new system
The bottom line: HVAC systems are long-term investments whose components work together to ensure your comfort – and like any investment, you need to do your research to find the best way to spend your money.
If you're considering new furnace or new air conditioning options for home – or need help choosing whether to repair or replace your current systems – our expert technicians and sales staff are always here to help.
Contact us today to learn more or get a FREE estimate on an upgrade for your home heating and AC systems!